Mill Creek Manufacturing
Due to overwhelming demand for the Buzzygrill we are currently out of stock. Please check back early august and every week after for availability. Sorry for the inconvenience. Buzz.
Presenting the Buzzygrill! Best campfire grill for all occasions!
$125 + tax for local pickup customers or $125 + actual shipping cost for those outside Wisconsin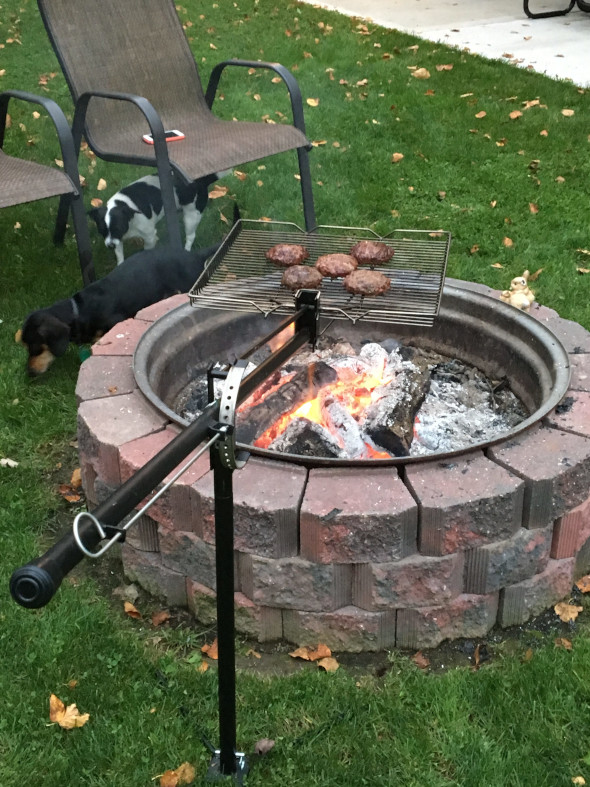 How the idea of Buzzygrill Campfire grill came about:
On a camping trip with friends a couple years back, I found myself very unimpressed with the tri-pod campfire grill someone brought along for everybody to cook on. Not only did we have to stand over the smoky fire to flip the burgers, but the grill was suspended from chains that allowed it to swing all over the place. There was no wall around the grill either, which really frustrated me after the corn on the cob rolled off into the ashes.
I remember thinking to myself… "I know I can come up with a better design than this". So when we got back home I got to work.
There was three things I wanted in a campfire grill…
It had to be easily height adjustable, and in a way that you don't have to get down on your knees or be that close to the smoke and hot fire.

It had to be able to swing out from over the fire to easily load and flip the food.

It also had to have a wall around the cooking area to prevent food from rolling off into the ashes and fire.
The Buzzygrill achieves all three objectives.